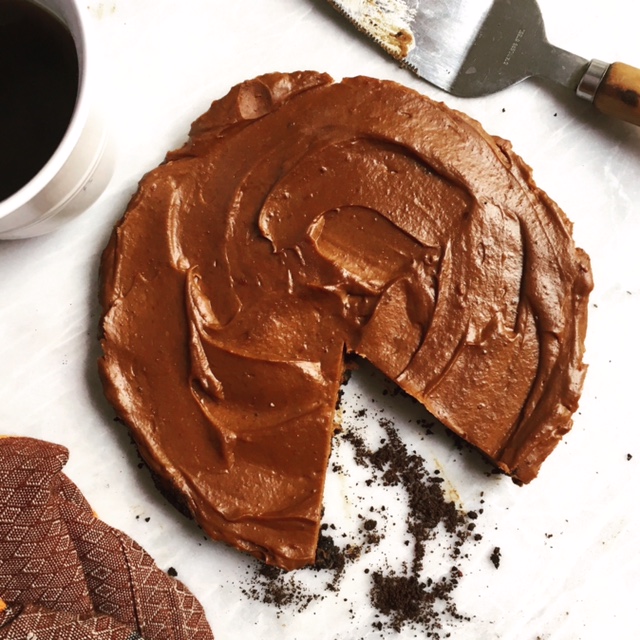 During the winter months, I find myself stuck inside more, so I'll try experimenting with recipes a bit more. Since I'm partial to finding ways to make desserts healthier, that's what I usually experiment with most.
My favorite desserts are those that are  raw as possible. So, of course, I'm always on the net looking for some awesome raw dessert recipes that I can try and tweak when neccesary. I always seem to end up on YouTube watching video recipes, which is more convienent since I'm usually multitasking. One of my favorite youtubers is FullyRawKristina . While I do not lead a raw diet life, I love her dessert recipes. Check her out if you can!
The hubby had been longing for a "peanut butter" tasting treat. I try not to use very much peanut butter because a lot does not work well with my body and if it's laying around in the form of some kind of goodie, I WILL eat it. So, I like to use sunflower butter instead. To me, it tastes the closest to peanut butter. Do I tell the hubby it's really sunflower seed butter?
Nope.
He never even notices…
Sunflower Seed Butter Benefits:
Sunflower seed butter has significantly more unsaturated fat, magnesium, zinc, iron and vitamin E than peanut butter, according to the U.S. Department of Agriculture.
So, what did I come up with to satisfy the hubby's craving AND something I could eat as well?
"Peanut Butter" Chocolate (No-Bake) Cheesecake
For the Crust:*
2¼ cups (180g) finely shredded coconut, unsweetened
3 tbsp cacao powder
1 tsp vanilla
1½ c. dates
For the Filling:
1 large avocado (ripe)
1/2 c. pure maple syrup
scant 1/2 c. almond  milk
2-3 T. vanilla
1/2 c. coconut oil, softened
1/2 c. nut butter (I used sunflower butter.  You can use natural peanut butter, almond butter or cashew butter as well.)
1/2 c. cacao powder
PREPARATION
Grease an 8 inch spring form pan with coconut oil. Set it aside.
For the crust:
Put coconut, cacao powder, vanilla and salt into a food processor and pulse briefly to mix.
Add the dates and process until the dates are finely chopped and the mixture starts to clump.
Press into pan and leave in the fridge to firm a little while you prepare the filling.
For the filling:
In your food processor, combine all of the filling ingredients Puree the ingredients until they are nice and silky smooth.
 Pour the filling onto your prepared crust. Use a spatula to even out the filling. Refrigerate the cheesecake for at least an hour.
That's it!  Serve it cold and store it in the fridge when it's not being eaten. The filling will soften up to a pudding consistency and make it difficult to cut.
*I love the date crust, but in the photo, I used a different crust because I made it for the hubby  and he does not like dates. (he's very stubborn!) If you are curious, here is that crust recipe:
Ingredients:
2 c. gluten-free cookies- I use these.
2-3 T. grass fed butter
Prepare:
In your food processor, combine the cookies and  butter and pulse. You should end up with a fine meal. Press the crumbs into the bottom of the spring form pan. Try to make the crust as even as possible.
Want to get your organic food 30-50% cheaper? Check out Thrive Market!
Like Where Tess Lives? Come see all the pretty… Follow me on Instagram.