Introducing guest blogger, Jesse Lane, who is sharing a wonderful (and healthy) recipe!
Hi my name is Jesse Lane and I am a cheerful holistic nutritionist and owner of JesseLaneWellness.com. As a holistic nutritionist I drink a lot of smoothies! They are a fantastic and easy way to get a big dose of nutrients in the morning. When I work with clients who are looking to clean up their diet, I often recommend they start their day with a smoothie. Smoothies can be made in less than 5 minutes and taken on the go making them super easy to fit into your busy morning routine.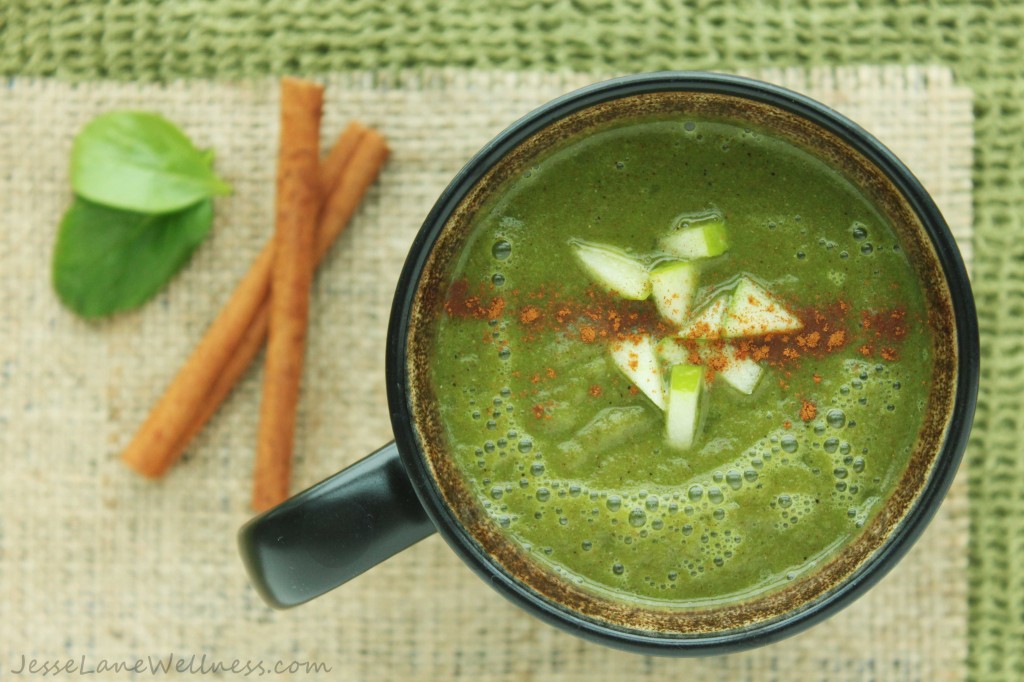 If you ever find yourself in a smoothie rut, check out my e-Book, The Holistic In The City 21 Day Smoothie Guide which contains 21 smoothie recipes and the secret formula for delicious and nutritious smoothies. Keep reading for my favorite Apple Pie Smoothie recipe and enter to win a copy of my eBook!
Apple Pie Smoothie is sweetened with apples and spiced with ginger and cinnamon. It contains a handful of spinach, but I promise you won't be able to taste it! This delicious smoothie is gluten free and vegan.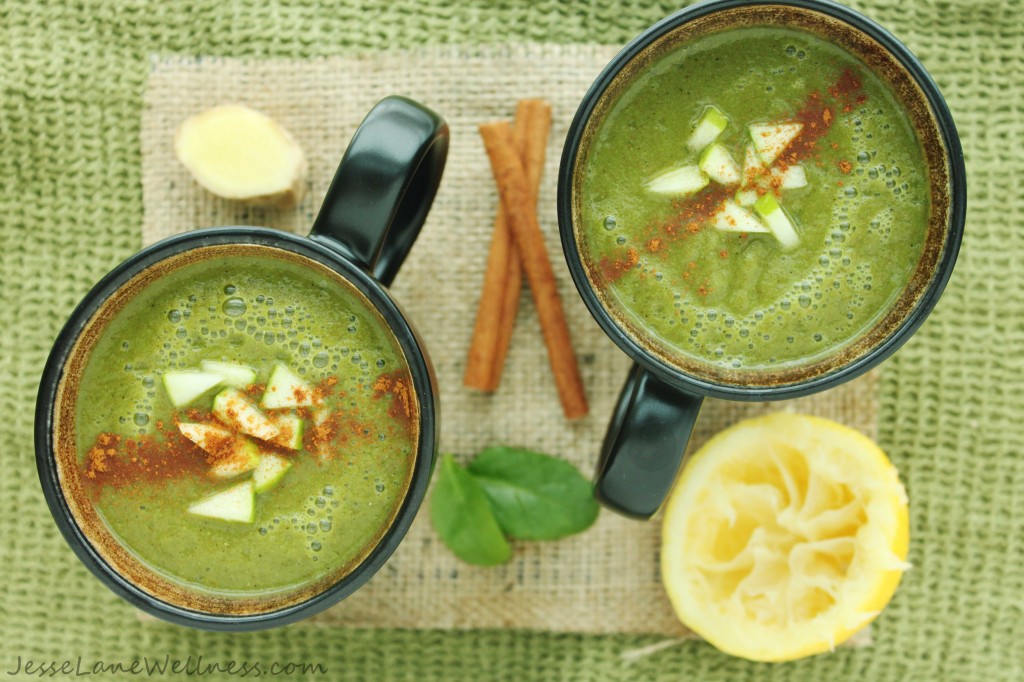 Ingredients:
1/4 lemon
1/2 cup water
1 apple, roughly diced
1 handfuls of baby spinach
1/4 cup gluten free oats
1/2 inch ginger, peeled
1/2 Tbsp cinnamon
1/4 tsp nutmeg
1 scoops vanilla protein powder *optional
Directions:
Juice 1/4 a lemon and pour the juice into a high powered blender or food processor.
Add the water, apple, spinach, oats, ginger, cinnamon, nutmeg and protein powder and blend until very smooth. You can enjoy at this smoothie at room temperature or cool it down by blending in ice cubes.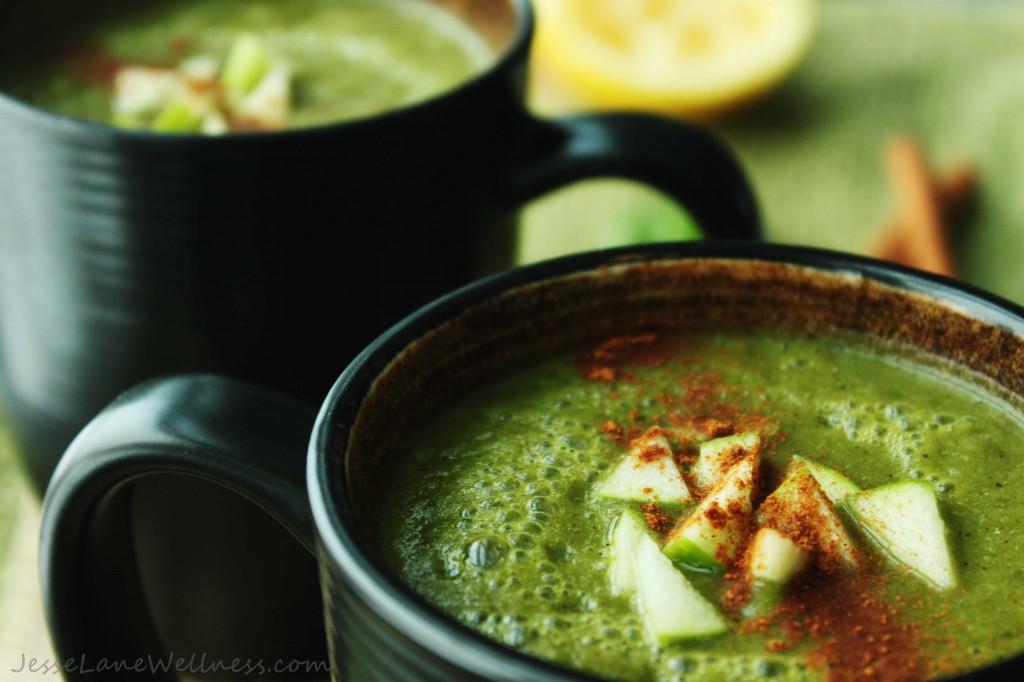 Win it!
Win a copy of my eBook! Holistic in the City 21 Day Smoothie Guide contains 21 delicious smoothie recipes made with love by 7 Holistic Nutritionists. It also has lots of information including our basic smoothie formula, the answer to the age old debate of juicing vs smoothies and what to look for when buying protein powder.
What people are saying about the eBook "It has really transformed how I create my smoothies in the morning or afternoon. I used to make them pretty simple – used greens, fruits & yogurt – and now I'm packing them with SUPERFOODS and healthy fats that I never thought to add in the past. I am definitely hooked! I also feel that your "Ultimate Smoothie Formula" has helped start to transform my own weekly grocery list and pantry items – this is something I want to continue to improve upon!"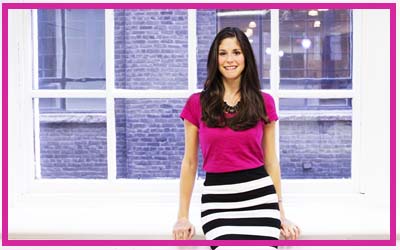 Jesse Lane Schelew, CNP is a cheerful Holistic Nutritionist and co-author of The Holistic in the City 21 Day Smoothie Guide which features 21 delicious smoothie recipes that will help jump start your smoothie habit. She is also the founder of Jesse Lane Wellness, a web based holistic nutrition practice and holistic recipe resource. Jesse Lane is passionate about nutrition and works with her clients to exceed their wellness goals. She helps her clients adopt fun healthy habits that they can get excited about. Jesse Lane loves to play in the kitchen and create holistically delicious recipes that accommodate a wide variety of food allergies, diets and lifestyle choices.
Website: http://www.jesselanewellness.com/
Twitter: http://twitter.com/JesseLWellness
Facebook: http://www.facebook.com/JesseLWellness
Instagram: http://instagram.com/jesselwellness
eBook: http://www.jesselanewellness.com/product/21-day-smoothie-guide/