Healthy Living Gift Guide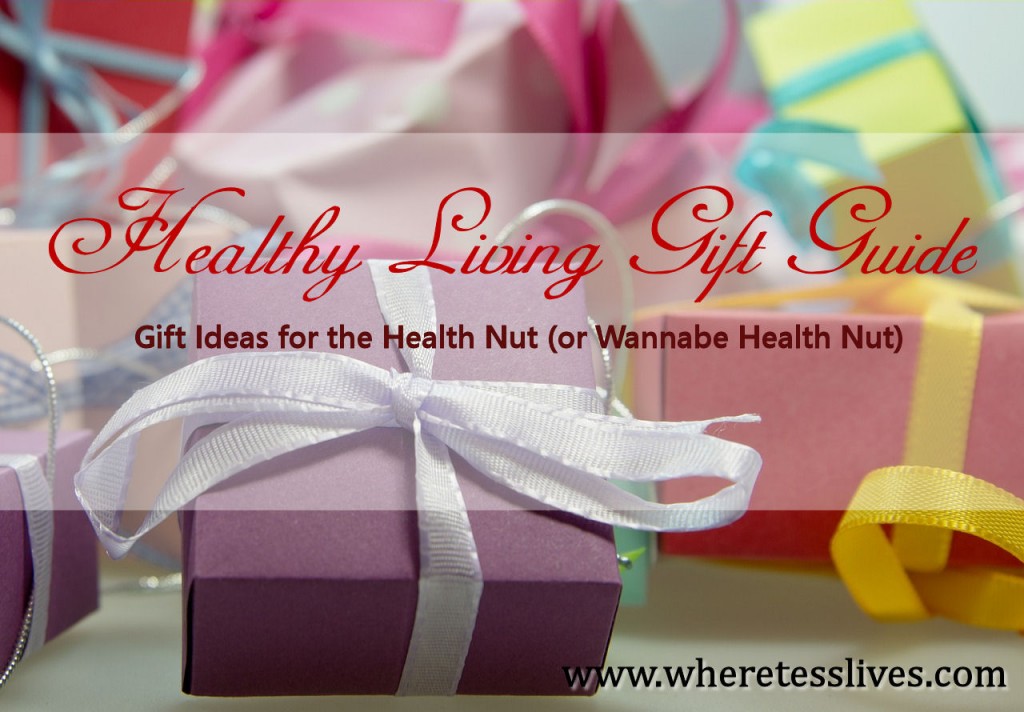 Holidays make me all warm and fuzzy. It's time for family and friends to get together (and hopefully, not fight).
It's also a time to give to all your favorite people! I love to give gifts of HEALTH and WELLNESS. I decided to put together this an awesome gift guide for that health nut in your life-or to help those favorite people of yours get on the right track of health and wellness.
I also love shopping online, so if you are like me, this will be so easy to do your shopping all from your comfy couch while drinking some yummy green tea.
My Favorite Books
—————————————————————————————————————–
Bone Broth Diet

My favorite book for beautiful skin!

            

Body Ecology Diet

Donna Gates believes that it all starts in the gut and probiotics.

                      

Whole 30

A step-by-step guidebook that will help transform your diet and change your life.
Health/Wellness and Personal Care
————————————————————————————————————-
Spark Naturals Essential Oils

A nice variety of oils that can get you started on the path to improved overall health and wellness. Use "Tess" for 10% off.

Annmarie Skin Care

Annmarie is my go-to brand for safe skin care and their sample kits are a great start.

Perfect Supplements

This company carries all of my favorites, at great low prices
Kitchen Must Haves
————————————————————–
Magic Bullet

What can I say, my Magic Bullet is what I use every day. It's perfect to make smoothies on the go.

Jack Lalanne's Fusion Juicer

When you don't want to spend hundreds on a juicer, this is perfect. I've had mine for a year now and love it!

Conair Cuisinart Smart Stick

I can't live without my hand blender. Perfect for smoothies and not having to drag out your blender.
Glass Storage Containers

I love, love this set! They have snap lids and sturdy glass.

Stainless Steal Cookware

You NEED to change over to stainless steal for your cooking. I love my set!

Kombucha Starter Kit

If you haven't gotten on the kombucha wagon, you need too. The health nut in your life will love you for this!
Can't Live Without
————————————————————————————————————-



Vital Proteins Collagen Peptides

I use this EVERY day in my drinks! I'm never without it. I love the customer service too-great people!
Get Here

Slip proof Yoga Mats

A non slip yoga mat is great if you do yoga.

Mason Jars

I can't function without my mason jar supply. I have about a zillion of them in all sizes. Yes, I have a mason jar addiction…



Blue Ice Beauty Balm

You will thank me for suggesting this! Your lips will feel wonderfully soft after using this. : )

Bullet Proof Coffee Pods

Oh my gosh-what can I say about this coffee?! Not enough! Now you can get it in cartridges. Woot! Woot!

Diffuser

Everyone should have a diffuser in their home. Seriously. Get one for the one you love!
Stocking Stuffers
————————————————————————————————————-



Organic Chia Seed

Chia seeds are a wonderful source of Omega 3s.
Get Here

Body Brush

Skin brushes are a great way to stimulate, detox, and soften skin.

Stainless Steal Straws

Glass or stainless straws are way better than plastic straws.
Theo Chocolate Bars

This is one of only brands of chocolate that I will eat! I love that it's soy free. I would love this in my stocking (hint, hint) too.

 

Ergonomic Spine & Tissue Massager

Massages are a must for healthy living. This is way cheaper than professional ones.

Blender Bottle Snackstak

Perfect for those on the go and who don't want to give into processed foods.
Meal Plans & Shopping Resources
————————————————————————————————————-
Give a Gift to Yourself
————————————————————————————————————-
Nutrition School: Institute of Integrative Nutrition
There has never been anything more rewarding to me than becoming a health coach. I really think it saved my life! I went to Integrative Nutrition to help others, but in the process, I helped myself. I never realized how badly I needed to change my habits-both eating and life. I feel SO much better these days and I don't view life the same way I did before this inspiring school opened my eyes to many things.
Sure, this could change your life career wise if you wanted, but even if you don't want to become a health coach, do it to educate yourself and your family/friends on how they can live a healthier life both physically AND emotionally!
I can even offer you up to $1000 off tuition if you mention my name (Teresa Moody) when you call IIN.  1 (844) 443-4494.
See my posts on becoming a health coach:
Become a health coach this month
Becoming a health coach through IIN
Feel free to email me with questions: info@wheretesslives.com
Or, try out a free class here:

  Please share this healthy gift guide with your friends! 
xoxo