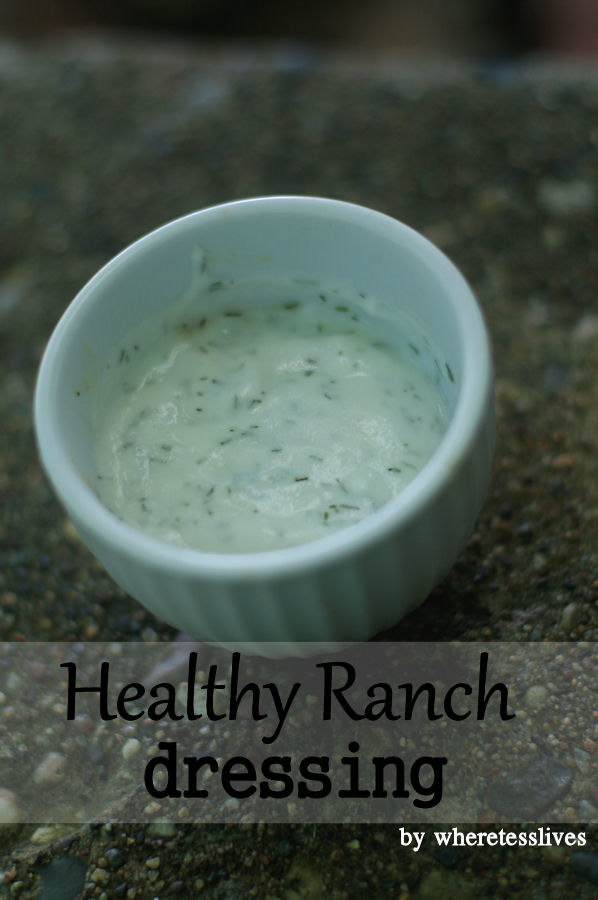 Hey you!
If there is one thing I cannot do without, it's having to have some kind of "sauce" on my food. I don't know why, but I do. You could say that I like a little salad with my dressing.  So, when I started eating healthier, I thought I would have to give up putting anything on my food. After all, most sauces/dressings contain Canola oil and other ingredients that I'm trying to stay away from.
So, what's a "sauce needing" girl to do??
Why, make her own, silly!
I didn't know that you could whip up healthy dressings and sauces that taste wonderful and just as good as store bought. I came across many ranch dressing recipes until I found one I could do and tweaked  it a bit. I also used my favorite healthy mayo that I stumbled upon while looking for a better store bought version (I really didn't want to mess with making my own mayo since it involved raw eggs).
I found this can't-live-without mayo brand Primal Kitchen Avocado Oil Paleo Mayo  . It is made from avocado oil, organic cage-free eggs, organic egg yolks, organic vinegar and salt.
That's it!
No canola oil. No soybean oil. No added sugar. No weirdly named preservatives. Just pure and healthy ingredients. Just real food! It looks like you can find it on Amazon,  paired with other items, but you can also find it on Thrive Market-for cheaper-check out my review on it!
Anyway, back to the ranch dressing…
I love to use ranch for celery dipping, salads, and even on meat. Now, I feel better to use this healthier version!
Healthier Ranch Dressing
Ingredients
2/3 cup low-fat, plain yogurt
2 tablespoons regular mayonnaise (I use avocado mayonnaise)
2 tablespoons minced chives
1 small clove garlic, peeled
1 teaspoon apple cider vinegar
1 tablespoon extra-virgin olive oil
¼ teaspoon salt
black pepper to taste
Instructions
Put the yogurt, mayonnaise, chives, garlic, vinegar, olive oil, and salt in the bowl of a food processor or blender. Add a few grinds of black pepper. Blend until smooth. Store in the fridge.
Want to get your organic food 30-50% cheaper? Check out Thrive Market!
Like Where Tess Lives? Come see all the pretty… Follow me on Instagram.