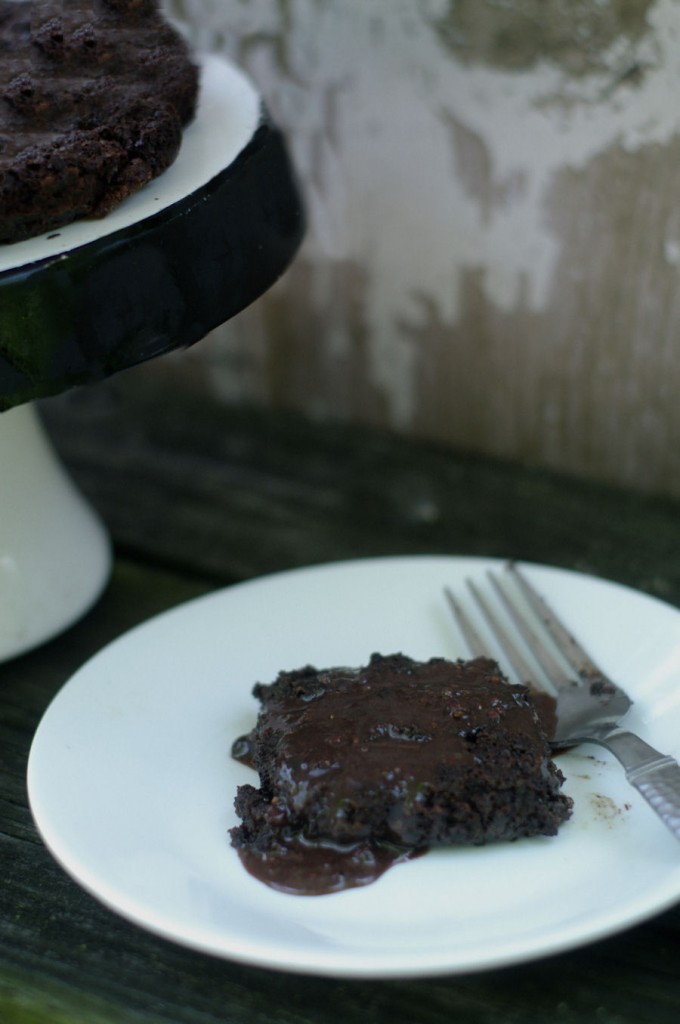 Yes, I know…
I post A LOT of chocolate recipes on this here blog.
Maybe that will be my thing.
Maybe you need lots of chocolate recipes too.
Let's just go with it, k? ; )
Today, I'm excited about this recipe. Partly because it was super easy.  Partly because it's gluten-free.  And partly because, well, it's about chocolate.
We're talking about flourless chocolate cake, people!
I have tried many flourless chocolate cakes before. I tried and failed, that is. I just didn't like how they ended up. I mean, if I'm going to go all chocolate cake, I want it to taste like a chocolate cake! I was convinced that if I was in a cake mood that I would have to throw out all my hard work on healing my body out the window.
Until this cake came along…
It's easy to make.
It doesn't have a lot of ingredients.
It tastes just like a regular chocolate cake!
I fear that I may have to make this more then I should…
You can really use any chocolate that you'd like in this cake. You can go all crazy and use chili-spiced chocolate if you want! I would stay as healthy grade as possible though. I mean, really guys. We want to think of this as a "healthy" chocolate cake, don't we?
It makes me feel better to say that, but actually, it's not too bad ingredient wise. I even had it for breakfast the other day-it does have eggs in it after all, right? ; )
Flourless Chocolate Cake
Ingredients
4 ounces of bittersweet organic chocolate
½ cup organic cultured butter
¾ cup maple syrup
3 large organic pastured eggs, whisked
½ cup raw cacao powder
Instructions
Preheat oven to 375 degrees. In a double boiler,* melt chocolate with butter. When melted, add maple syrup and whisk. Remove from heat and add whisked eggs. Slowly add the eggs with the chocolate. Add cacao powder sifted through a fine-mesh strainer. Prepare an 8-inch cake pan lined with parchment paper. Pour mixture in and bake for 20-25 minutes. Cool completely and frost with icing of your choice.
*If you don't have a double boiler, you can fill a medium sauce pan with water, a quarter of the way, and heat to boiling. Set a stainless steel bowl on top of boiling water.
Want to get your organic food 30-50% cheaper? Check out Thrive Market!
Like Where Tess Lives? Come see all the pretty… Follow me on Instagram.