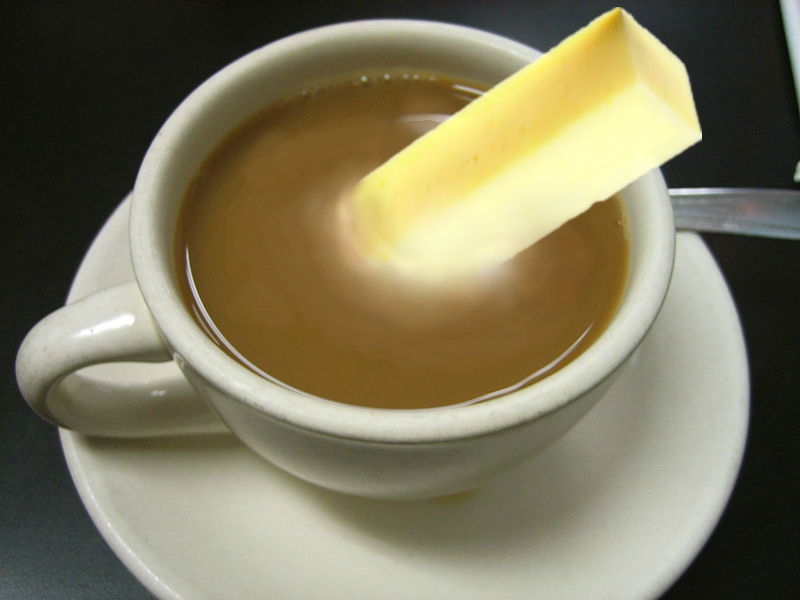 Butter in your coffee huh?
Sounds gross, right? That is what I thought at first, though I love butter. You may think it's gonna be weird, but it's great!
I'm currently reading The Bulletproof Diet
by Dave Asprey.  I'm probably getting on the bandwagon late (as usual), but I'm really getting into it. I'm hearing a lot about the Bulletproof Coffee (also called "butter coffee") and this website has tons of information about the effects of Bulletproof coffee and just exactly how it works.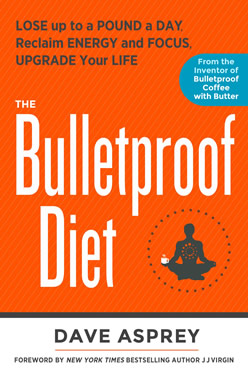 Since I've cured my addiction to coffee, I try to stay away from coffee as much as I can. I try to drink Yerba Mate whenever possible, but I do like the idea of trying this.
I was inspired to try this because Dave Asprey (the inventor of Bulletproof® Coffee
) seems to be trusted by a lot of people.  He's a smart cookie and  spent many years researching and testing in order to figure out the best ways to achieve optimal mental performance and peak physical condition.
 If you haven't read his book, you should- it's really fascinating!
In Dave's book he states that "drinking Bulletproof Coffee as your breakfast gets your body into fat burning mode first thing in the morning, improves mental clarity and makes you feel lean, focused and energized."
He calls it a "high performance buzz," which I plan on telling my hubby about, since he's a super big coffee drinker.
So What  Exactly Is Bulletproof Coffee?
This coffee is basically high quality organic black coffee (
Bulletproof Coffee
) blended with grass-fed butter and
MCT oil
(some people use coconut oil instead).
If you're going to start drinking Bulletproof Coffee in the morning, make it be your breakfast. This will keep you full and give you plenty of nutrients.
Now, you can use your regular coffee, but I recommend that you use the better quality coffee, like the Bulletproof Upgraded Coffee, or any organic coffee. As Dave says,  "Not all coffee is created equal.  The wrong coffee will sap your energy and leave you feeling lethargic and irritable. Toxins in regular coffee steals your mental edge and actually makes you weak, but clean coffee is actually healthy, and gives you important antioxidants."
Want the recipe?
Bulletproof Coffee Recipe
1-2 tbsp grass-fed butter (unsalted)
1-2 tbsp MCT oil, Brain Octane, XCT oil or coconut oil
1-2 cups of hot black coffee (brewed with low-toxin beans (like Bulletproof Upgraded Coffee)
Blend all ingredients in a glass blender (high-speed blenders like a Vitamix or Ninja, but regular blenders will work fine too.)
If you are a tea drinker, you can totally do this with tea as well. I've made some killer lattes that way!
If you are interested in seeing if this is for you, you can read more and decide for yourself
Have you ever tried Bulletproof Coffee? What do you think?
Want to get your organic food 30-50% cheaper? Check out Thrive Market!
Like Where Tess Lives? Come see all the pretty… Follow me on Instagram.