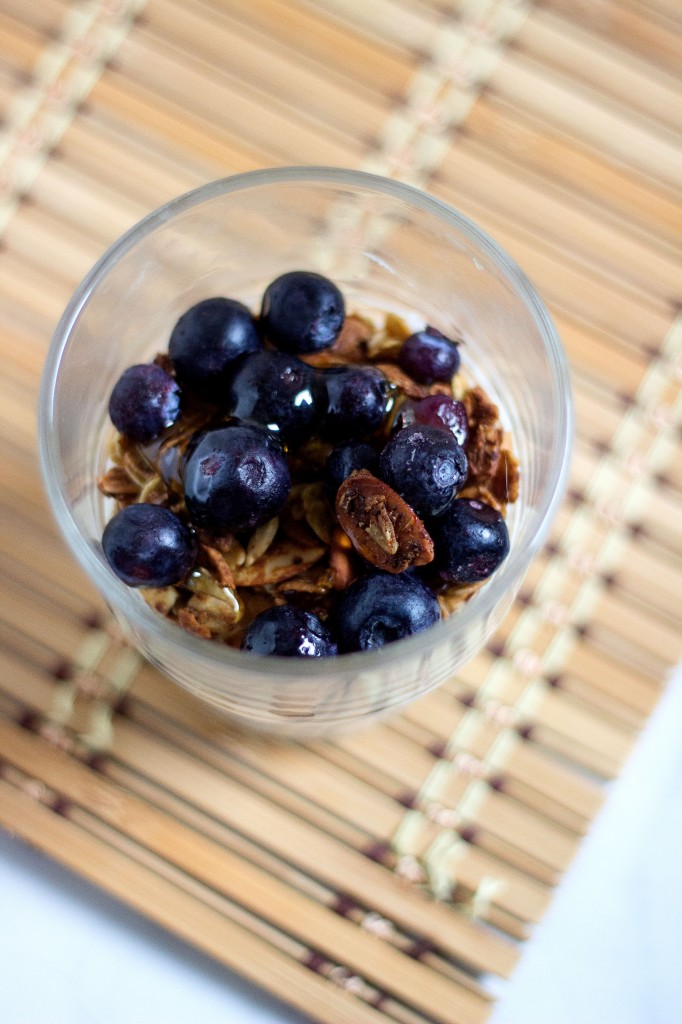 Breakfast is my most favorite meal of the day. I would have breakfast for lunch and dinner if the hubby would let us. He's not a pancakes for supper kind of guy. What a party pooper, right? I just think that breakfast food is so fun to make (and eat). I'd take a big bowl of oatmeal with berries and honey over a ham sandwich. My favorite thing to add to any breakfast dish is granola. It's crunchy and full of good stuff for you. Granola is an easy snack as well. I bring a baggie with me when out in case I have the munchies. Putting granola on yogurt is my way to eat yogurt. I simply cannot just eat plain yogurt. I just can't. Can you? I have to get my fruit and some honey in as well, so put it  all together and you have a perfect start to your day! Benefits of granola:
Almonds provide a fantastic intake of protein, omega-3 and vitamin E.
Pumpkin, sunflower and flax seeds enhance the benefits and also boosting your intake of  phosphorus, magnesium and manganese
The whole grain oats are great source of fiber and helps keep you full all morning (I can tell you it's true!).
Benefits of blueberries:
Blueberries are very rich in antioxidants like Anthocyanin, vitamin C, B complex, vitamin E, vitamin A, copper, selenium, and  zinc.
Neutralizes free radicals which can affect disease and aging in the body.
Aid in reducing belly fat.
Benefits of (Greek) yogurt:
Good for you bacteria.
Great source of potassium, phosphorous, riboflavin, iodine, zinc, and vitamin B5 and B12.
High protein content.
Great source of calcium.
I try to make my own granola when I can, but if I've been too busy and haven't been able to make a batch, I just pick up a bag of Barb's Garden & Pantry Granola  made locally and sold at our local grocery store.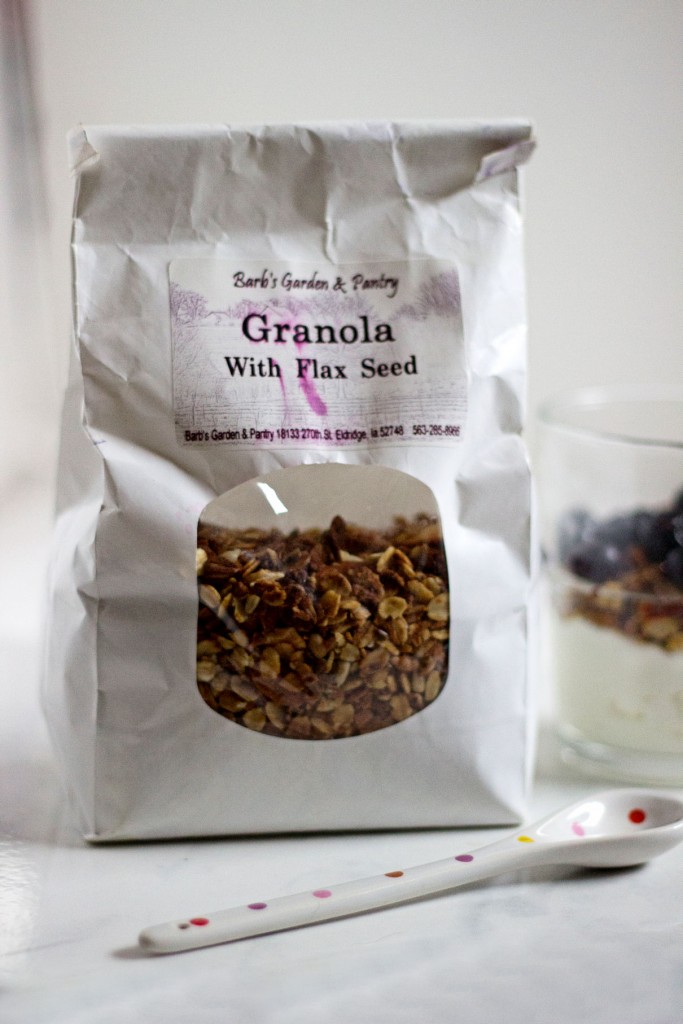 Since I love to support local small businesses! Make your own Blueberry  Granola Crunch Yogurt (adapted from Deliciously Ella's book)
Blueberry Granola Crunch Yogurt
Ingredients
Granola:
2 and a 1/2 cups of oats
1/2 cup of almonds
1/2 cup of flax seeds
1 cup of pumpkin seeds
1 cup of sunflower seeds
3 tablespoons of coconut oil
3 tablespoons of honey
1 cup of vanilla flavored greek yogurt
honey to taste
1/2 cup of blueberries (fresh or frozen)
Instructions
Place the almonds in a food processor and pulse for about 30 seconds to partially crush. Then add them to a large mixing bowl with all the other dry ingredients stir together.
Next, melt the coconut oil with the honey. Once add to dry bowl and mix well. Place the mixture into a baking tray and bake for about 30-40 minutes at 350, until crunchy. During this time you'll need to stir the mixture so the top doesn't burn.
Once the granola is cooked perfectly remove the tray from the oven and allow it to cool then store the granola in an air-tight container.
For yogurt dish:
Scoop on cup of yogurt into dish. Place desired amount of granola on top of yogurt. Top with blueberries and add honey for sweetness.
Now don't you feel you should eat this every day? *This post may contain affiliate/sponsored content. Don't worry, I got your back and wouldn't promote anything that I wouldn't use myself!